Bent the crease line up over the edge of the bench to match. I made the patch this big rather than try and weld in two triangular pieces as that would be more welding and coming together at a sharp point would distort badly. I try to get it the best I can before tacking and welding into place.
So longer one at the rear and stock one at the front. I think it is subtle enough that most would never pick it yet it gives me 40mm-1.5" more room between the back of the fan and the front of the engine.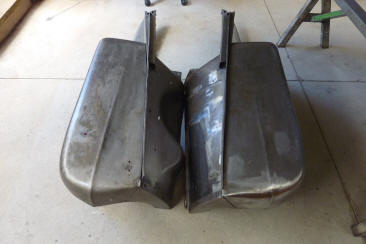 I think the longer bonnet to match will help with the proportions of the longer/wider cab as well. The bonnet in the middle to cover the bigger V in the wider grille adds another 40mm-1.5", making the total bonnet 80mm-3.2" longer overall.
[Index]