WILLYS HOTROD TRUCK
This is on a project called GrandWillys!
The name comes about from the combining of a 1948 and 1958 Willys Trucks with a 2008 Jeep Grand Cherokee Limited.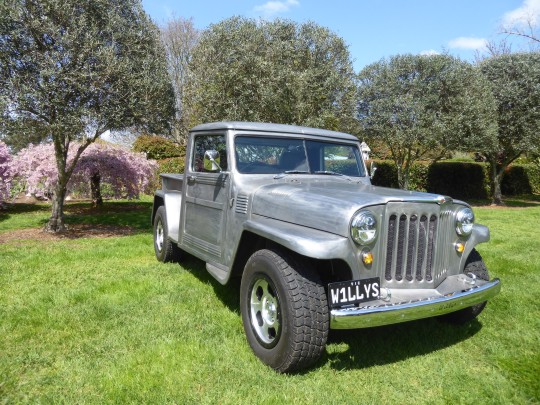 This 10" wider/longer and 4" chopped fully custom HEMI powered custom Truck was hand built from three donors.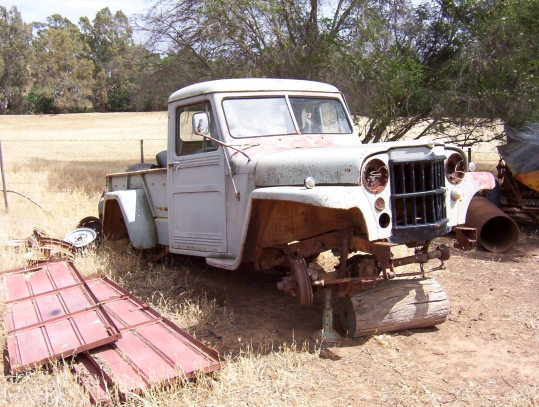 This 1958 Willys Jeep.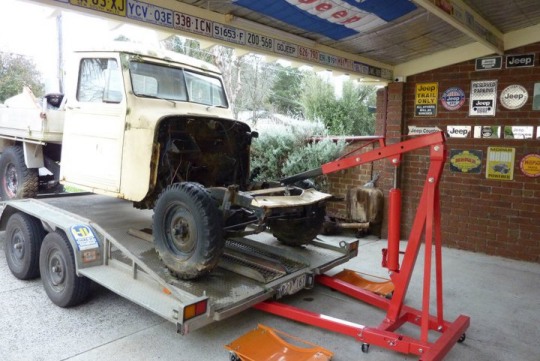 A 1948 Willys Truck.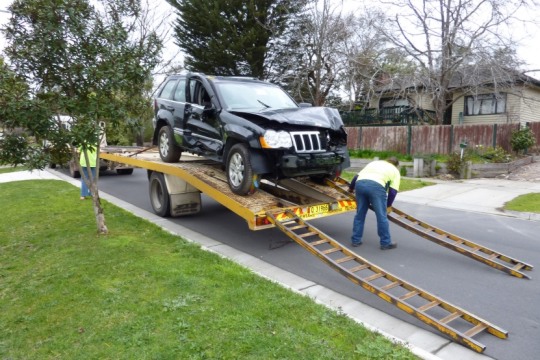 Plus a totalled 2008 Jeep Grand Cherokee 5.7 HEMI
This is a long term project to full fill a childhood dream of building myself a hotrod one day. For some reason I always had in mind a 1950-1964 'pointy nosed' Willys Pickup. Might stem back to the time when I would spend my summers down at the beach in San Remo where I would sneak into near by yard and climb inside one of these that was rusting away there. Thought of it again off and on for years and even went back to check on that old Willys Pickup after I had rolled my 400 Chev powered Toyota Hilux. Thought I could do a body swap but it was too far gone by then and could not locate another one. No such thing as eBay back then in the 80's! Then one day I saw one come up on eBay and for a joke sent the auction details to my wife and mentioned the childhood dream. Well instead of thinking it was just folly, she said we should bid on it! Well we won it and that is how it all started. Mind you, we didn't even have anywhere to put it but the sellers agreed to keep it in their paddock for me for a few months, which turned out to be nearly a year, until I got my plans through council and then the built the workshop to put it in.
My long term plans is to use a wrecked WH/WK Grand Cherokee with a 5.7 litre V8 Hemi and use as much as possible from it from the whole drive train including front and rear suspension, the wiring loom and instruments etc. Also to widen the cab around 9" so the front and rear tracks will be the same and match the Grand as well. Will see what actually happens over the build which will take around 10 years I predict as in no rush and want to do all the build myself as far as possible, apart from paint which I have an allergy to.
Latest build update 28/11/2023: Grand Willys Truck page 144.
Below are links to different stages of the above build.
| | |
| --- | --- |
| | |
| | |
| | |
| | |
| | |
| | |
| | |
| | |
| | |
| | |
| | |
| | |
| | |
| | |
| | |
| | |
| | |
| | |
| | |
| | |
| | |
| | |
| | |
| | |
| | |
| | |
| | |
| | |
| | |
| | |
| | |
| | |
| | |
| | |
| | |
| | |
| | |
| | |
| | |
| | |
| | |
| | |
| | |
| | |
| | |
| | |
| | |
| | |
| | |
| | |
| | |
| | Jeep Wiper Motor to Cable Drive Conversion and Sweep Change. |
| | |
| | |
| | LED Headlight CANBUS Error Cancellation Module & Land Rover lights. |
| | |
| | |
| | |
| | |
| | |
| | |
| | |
| | |
| | |
| | |
| | |
| | |
| | |
| | |
| | |
| | |
| | |
| | |
SUB DOMAINS